Snapdragon™ 855
Up to 12GB + 256GB
Direct Touch Multilayer Liquid Cooling
World's Lowest Latency Touch
Ludicrous Mode Performance Boost
Direct Touch Liquid Cooling 3.0
We've taken our innovative liquid cooling technology to the next level: the Mille-Feuille Full Area Liquid Cooling System. Black Shark 2 features the first and unique direct touch multilayer liquid cooling system with full coverage. An oversized cooling plate, covering all major components, reduces core temperatures by up to 14°C. It's the same thermal technology used in high-end PC gaming rigs, now in your pocket.
CPU core temperatures reduced by
14℃
Liquid cooling plate area
14555mm²
CPU liquid cooling efficiency increased by
20x
CPU Maximum frame rate run time increased by
800%
Ludicrous Mode
With flagship hardware and optimized software, Black Shark 2 provides superior gaming performance right out of the box. If you want to take things to the next level, enable Ludicrous Mode to max boost performance. Experience the smoothest gaming with buttery-smooth framerates.
World's Lowest Latency Touch
In competitive gaming, a fraction of a second can change everything. With a report rate up to 240Hz and response time of just 43.5ms, our ultra-low latency touch provides the fastest input response for a serious competitive edge in action games, shooters, and RPGs.
Master Touch
Control complex button layouts and boost your K/D ratio with Master Touch, Black Shark 2's innovative pressure-sensitive display technology. Powered by Black Shark's Gaming AI, Master Touch lets you set a custom touch zone and trigger multiple on-screen actions with just two thumbs. It's not just easier to use - it's easier to win.
TrueView Display
Custom-tuned for gaming, our ultra-widescreen TrueView display produces realistic, natural, and incredibly accurate colors. Experience the game the way the developers intended with dark blacks and vivid brights.
6.39" TrueView Display with HDR
AMOLED screen + Independent DSP
TrueClarity™ MEMC processing to eliminate unintended judder and blur
Advanced HDR Tone mapping + Real time SDR-HDR conversion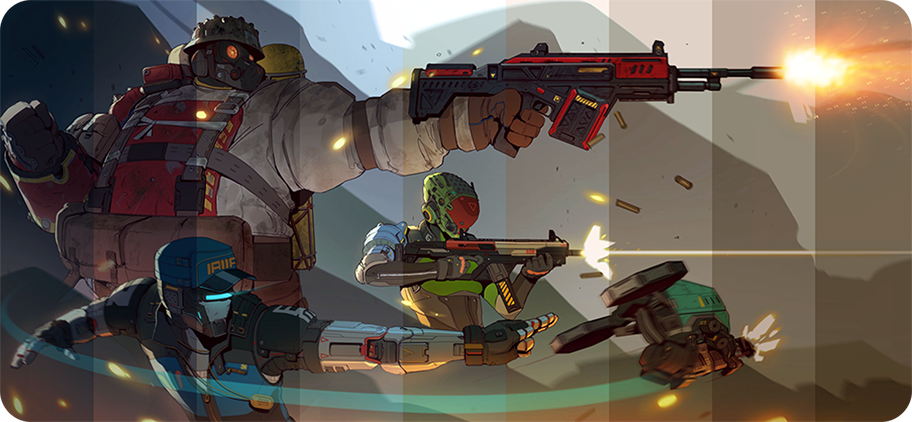 Gaming Light
Producing over 16.8 million colors, the Black Shark 2's dual RGB strips intelligently sync with in-game effects and dance to music, creating an incredibly immersive gaming and entertainment experience.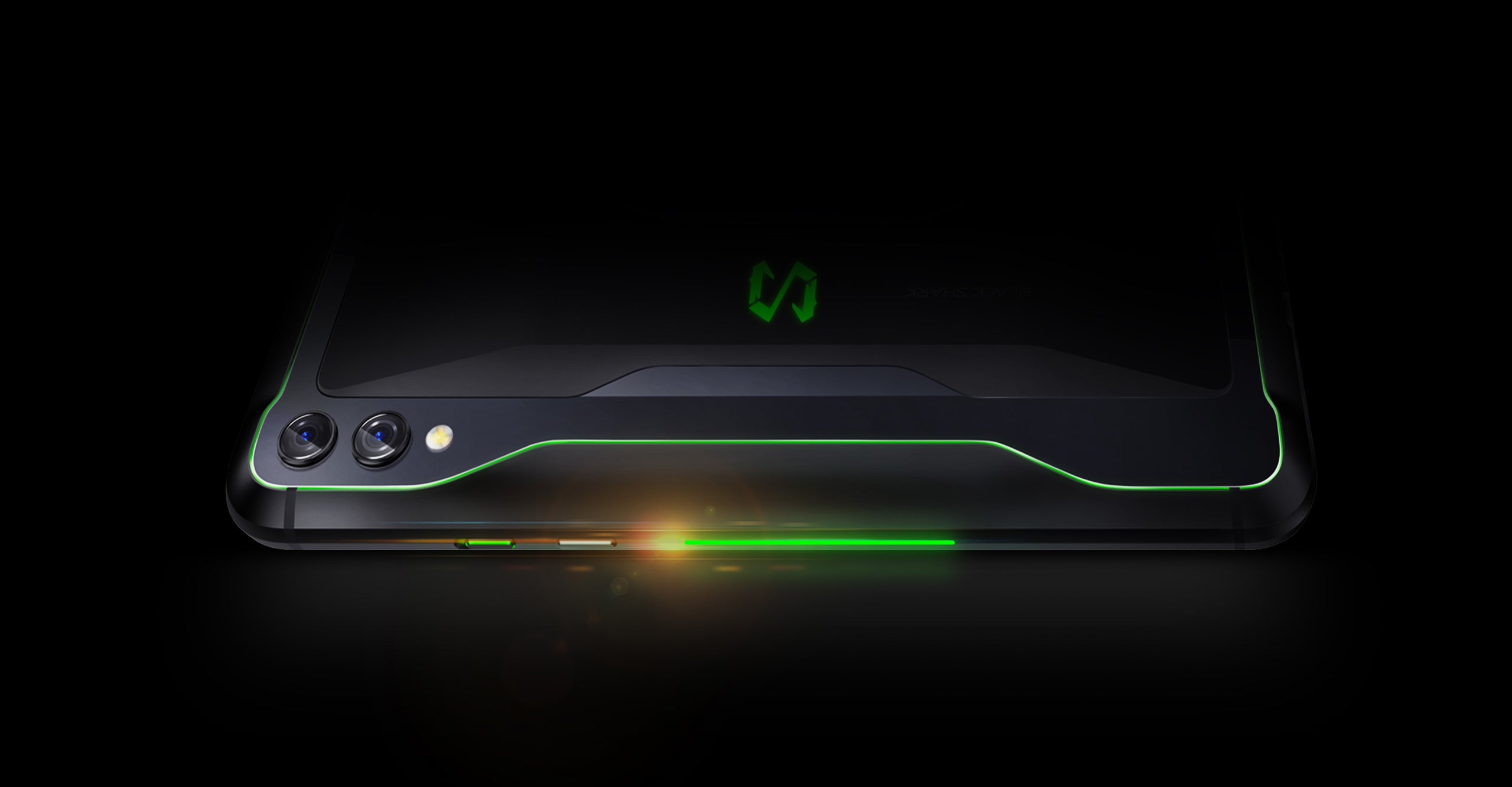 Up to 25% larger than standard smartphone speakers, the Black Shark 2's dual front-facing speakers pump out powerful stereo sound for immersive gaming, while two noise cancelling microphones ensure crystal clear in-game voice chat. Black Shark's AI technology automatically detects and optimizes audio for games, movies, music, and more.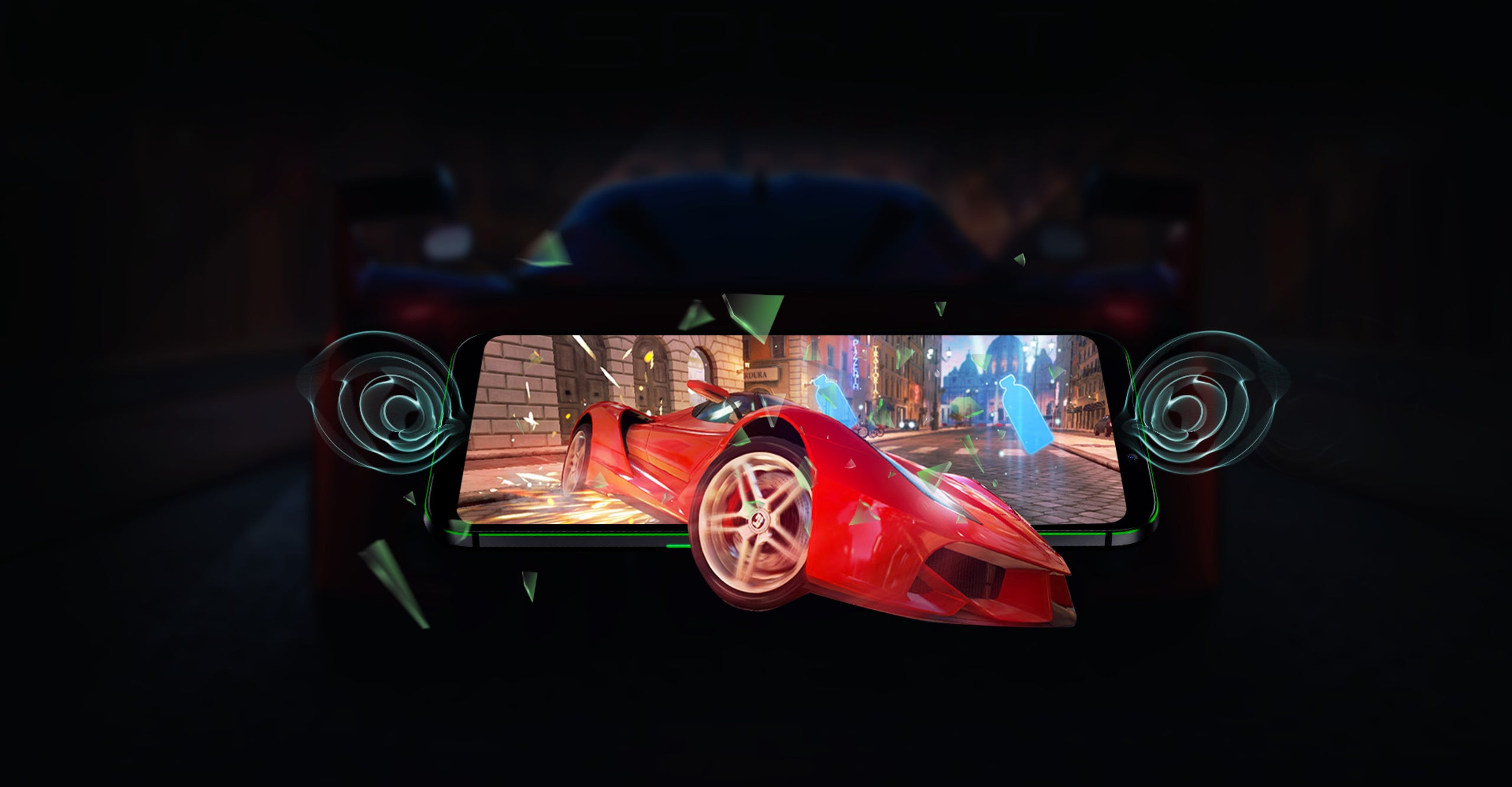 Vibration Sense
Experience every shot, drop, and frag. Feel the formidable rumble of a supercar's revving engine. Powered by a powerful haptic motor, the Black Shark 2 produces customized feedback for more immersive gaming.
Inspired by the bold lines and subtle curves of a luxury sports car, the Black Shark 2 is ergonomically crafted from aviation-grade frosted metal and glass.
The Black Shark 2 was built from the ground up to ensure hours of comfortable gaming. A unique ergonomic curved design provides extra grip and more precise movements, while the glass back dissipates heat away from your hands for a consistently cool touch.
All-new Shark Space
With one flick of a switch, the Android interface transforms into a customized gaming hub. RAM is instantly cleared for maximum gaming performance, and all of your games are instantly organized and at your fingertips.
Game Dock
Toggle options, silence notifications, and more in a convenient pull-down menu - without ever leaving the game. The Performance Dashboard overlay displays real time data such as framerate and system temperatures, so the power is always right at your fingertips.
Gamer Studio
In Gamer Studio, you can enable Ludicrous Mode for maximum performance, tweak your display settings, customize touch settings, change themes, and more. The options are endless.
Game on the Big Screen
Smartphone? Gaming host? Why not both?
Game on your TV or monitor in HD quality with the Black Shark Type-C To HDMI Cable. Attach the Black Shark Gamepad 2.0 for a full host experience.
Play your favorite Android games, right from your couch.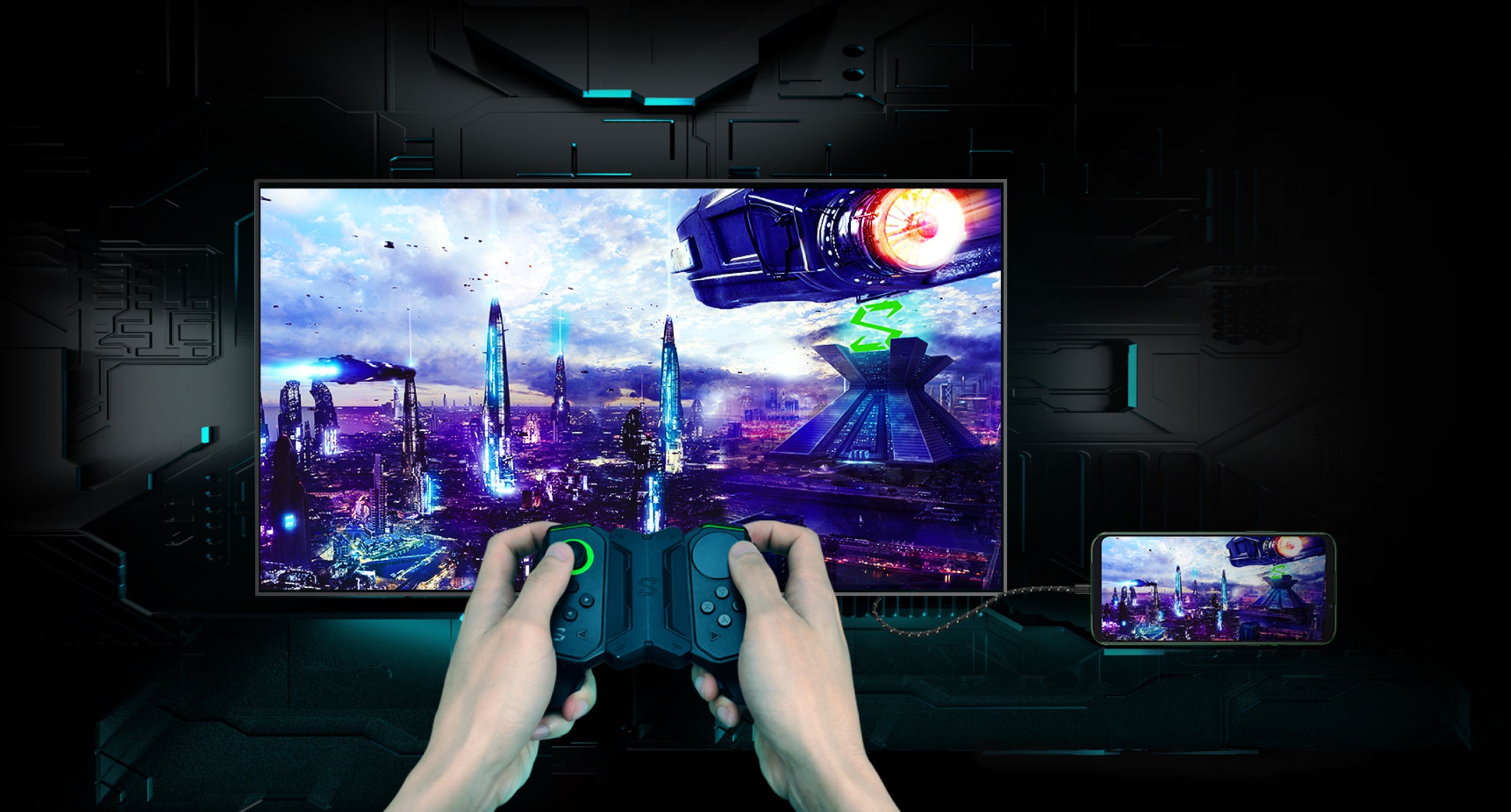 Gaming Power
With 4000mAh high-capacity battery and 27W/4.8A Quick Charging, a simple 5 minute charge provides up to a half hour of gaming.
60% battery
In 30 minutes
Smart Antenna
X-type Antenna + 2 Side Antennas for a strong connection, regardless of phone orientation.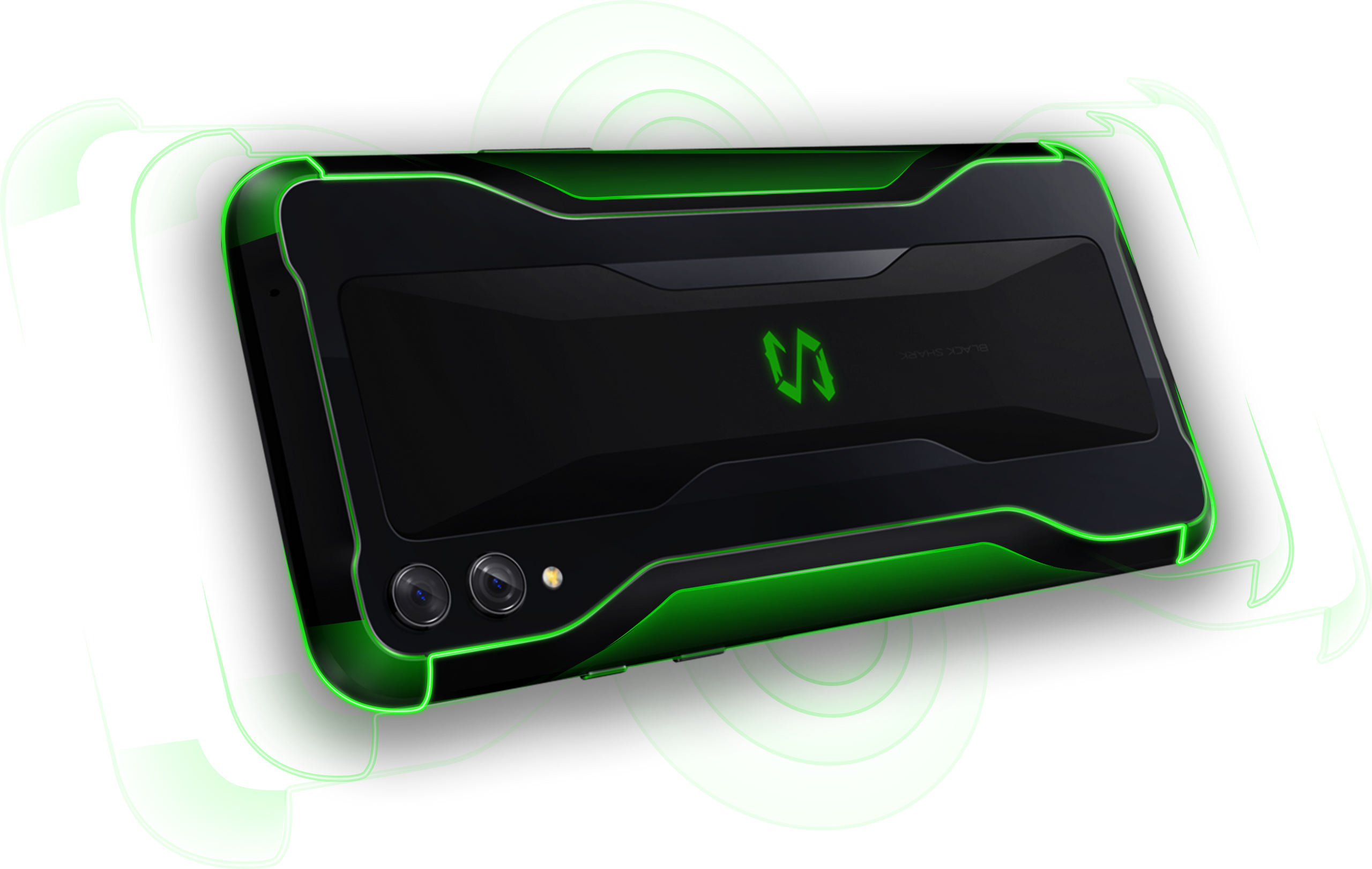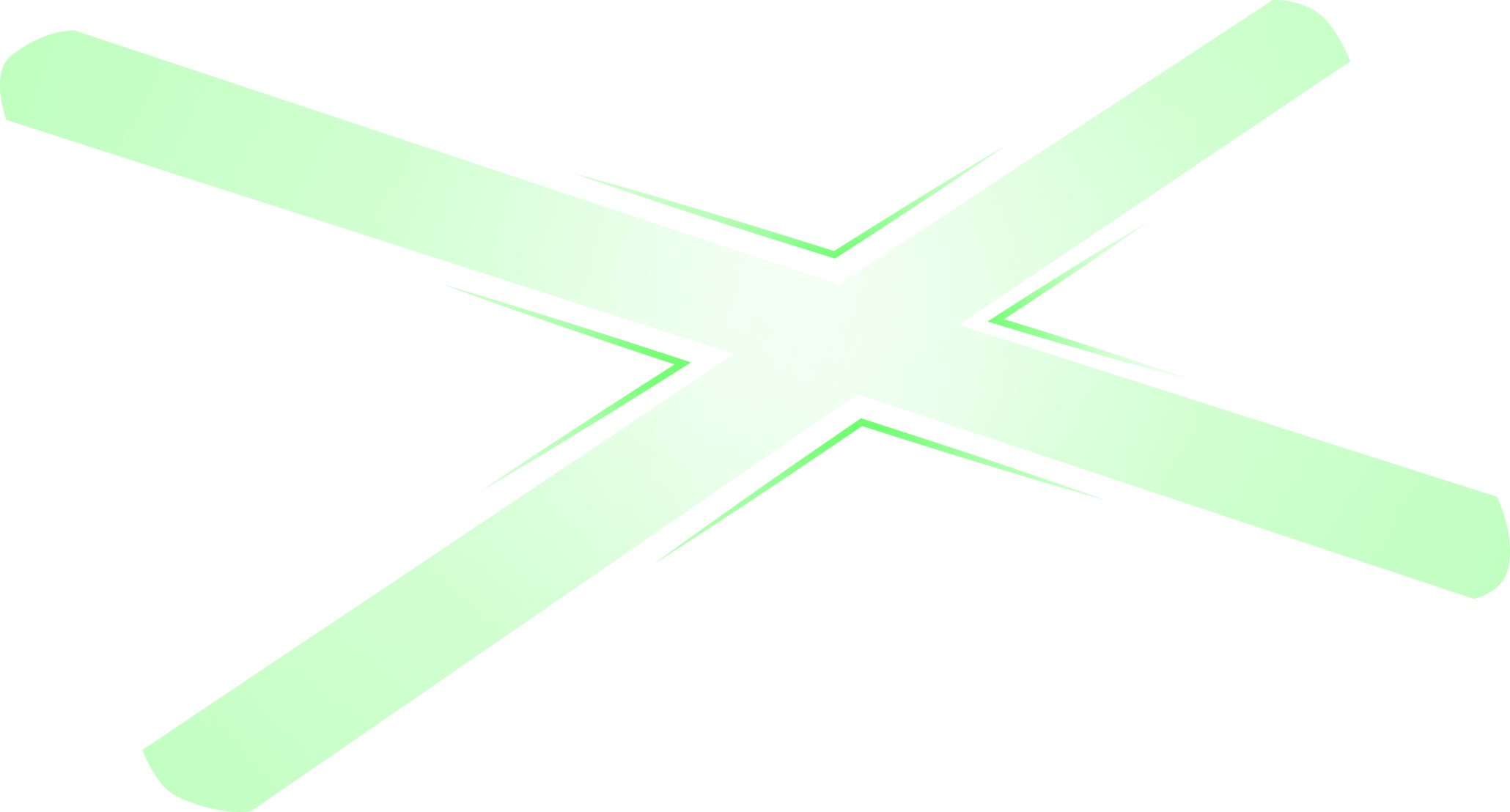 In-display Fingerprint Scanner
Keep your data secure with an embedded fingerprint scanner. With a quick tap on the screen, unlock the new gaming world.
Explore the Tech Specs
Revolutionary Liquid Cooling 3.0
Up to 12G RAM
+ 256G Storage
World's Lowest
Latency Touch