Global Release of Black Shark JOYUI 11
Hello all Black Shark fans! We have some exciting news about some updates to JOYUI. Black Shark 2 and Black Shark 2 Pro models will both receive an update pack that will include JOYUI11. Update notifications are expected between the dates of 27th April to 6th May 2020. Also the Black Shark 3 and Black Shark 3 Pro will feature the brand new JOYUI, great news for anyone who is planning to get our latest smartphone models to experience all of the benefits that JOYUI has to give these smartphones. 
So, what will you all benefit from by having this new update? We will give you a list of features and performance improvements that you will come to expect from JOYUI11:
1. Key System Apps Improvements
Key system apps are the bedrock of any smartphone to ensure you can make the best use of your phone. Many crucial apps can be the key to a great smartphone, so it is important to provide the very best of apps to improve the way your phone functions inside and outside your gaming sessions.
In a new systematic update based of JOYUI, the key system apps have top level fluency, stability, and functionality among other operation systems. The home page style has an easy-to-use and more stable features including the opening of the apps, swipe between pages, and management of folders.
The update also brings new multiple features, including quick reply, dual apps, quick ball, single hand mode, etc.
The two Black Shark Series devices are now compatible with Mi account and Mi cloud, allowing features such as Find My Phone, Back Up and Data Sync, etc. to operate on the device.
New file manager app to support the review of photos, videos, document, and music, and the automatic classification of PDF, Word, Excel, and PPT files to simplify any files type categorization.
Security update that restricts the current running app to access the location information and the location information is protected during network scan to prevent tracking. Also, the improved Google security patch for security and stability.
Thousands of cool new themes are newly introduced to the system, which could be accessed online for free.
236 new Emoji are added
2. Advanced experience with JOYUI >> All Screen Gestures
For all those who are already familiar with the benefits of JOYUI, you understand how useful it can be. This will be fully utilised in the coming update.
JOYUI 11 provides simple and easy screen gestures, including swipe up for Home Screen, swipe up and hold for Recent Apps, swipe leftside for going back. The three Navbar buttons can also be hidden for maximum display experience, and also special function to prevent accidental touch in games.
* Note: Different regions may have different theme packages
3. IoT Capability
Another important aspect of the JOYUI 11 is  its interconnectivity with other physical devices using internet (IoT).
Mi Share: Black Shark is part of the Peer-to-Peer Transmission Alliance, enabling the device to share files, faster and easier with other android smartphones.
Wireless Print: Now the devices are compatible to do a fast-wireless print through 'Share to' page with more than 2,000 printers from 25 brands.
Cast: The cast feature allows the phone's content, including documents, videos, photos, etc., to be mirrored to TV, as long as the phone is connected with the same WiFi as the TV.
4. Natural Dynamic Sound System and Always on Display
Natural Dynamic Sound System: Consists of Dynamic Alarm Ringtones with seven natural alarm ringtones for seven days a week and supports weather alarm ringtone that has different ringtones based on different weathers, and Dynamic Birds Sound for Notifications with variety of natural sounds for notifications.
Always On Display: Consists of Always On Clock and Light effects for notifications
5. Richer Tools
Having richer tools enables a richer experience when using JOYUI. The aim of this is to ensure that you can have a better user experience with the phone and are able to use it to its full potential.
More tools including screen recorder, scrolling screenshots, notes, compass, calculator, scanner, recorder, weather, and security features.
-  For Your Perfect Gaming
Of course, it wouldn't be Black Shark without mentioning the very important factor of the advanced gaming experience being fully capable with Black Shark by enhancing the gaming experience with Shark Place 3.0 and Shark Arsenal.
     Shark Space 3.0
The update brings all new designed Shark Space UI that gives simple access to all gaming settings in Gamer Studio, new optional effects when entering games, and an integrated Shark Arsenal that manages all of Black Shark accessories.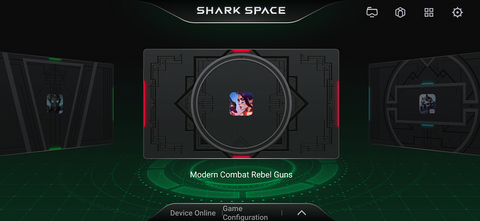 Shark Arsenal
Shark Arsenal is a feature integrated in the Shark Space, for easy management of all Black Shark accessories. The feature controls fast connecting, user's guide, light effects, firmware update, etc.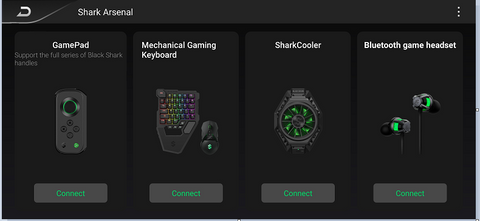 Beyond all these features, we continue to evolve to ensure that we continue to develop going into the future either with new devices, new accessories or now software. Stay tuned for more exciting new things we have planned, so you can stay up to date with the latest we have to offer.